Operant Networks Celebrates 10GW Deployment Milestone – A Trailblazer in Cybersecurity for the Power Generation Industry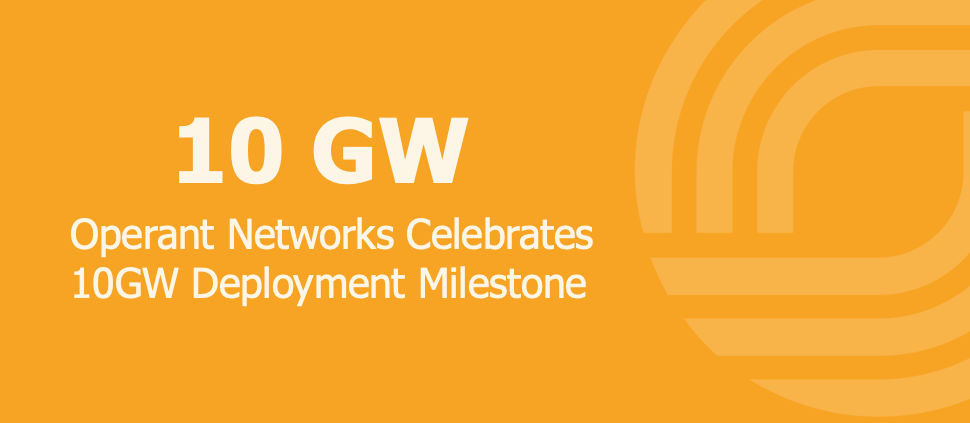 Operant Networks Celebrates 10GW Deployment Milestone - A Trailblazer in Cybersecurity for the Power Generation Industry
Rohnert Park, CA – Operant Networks, a prominent player in the cybersecurity sector, focusing on providing cutting-edge solutions to the power generation industry, proudly announces the successful deployment of over 10GW of power generation facilities. Operant's CEO, Keith Rose, expressed his gratitude towards customers, stating, "We are incredibly grateful to our customers for trusting us as the primary network for over 10GW of power generation facilities. This milestone is a testament to our commitment to providing the highest level of cybersecurity and reliability for the future electric grid."
Founded in 2016 by experts from the renewable and telecommunication industries, Operant Networks embarked on its journey with the mission of securing distributed renewable systems that heavily rely on Internet-based communication. In a significant development, a study published in 2021 by the U.S Department of Energy referred to Operant's technology as potentially 'game-changing,' with regards to enabling the electric grid's transition to distributed renewables while simultaneously prioritizing national security.
Operant Networks is at the forefront of safeguarding power plants; however, their vision extends beyond these facilities. CEO Keith Rose remarks, "Since launching Operant, we realized that other critical infrastructure markets, such as manufacturing and transportation, are also undergoing similar changes, adopting modern technologies like public cloud and Artificial Intelligence. Although this evolution is economically sensible, it creates a scenario with massive amounts of data moving around and different stakeholders accessing it. This presents a perfect storm from a cybersecurity perspective."
Looking ahead, Operant is gearing up to make a groundbreaking announcement at the nation's largest energy conference, RE+, scheduled to take place in Las Vegas this coming September. This anticipated product launch signifies Operant's commitment to continuous innovation and progress in the field of cybersecurity for the electric industry.
For more information about Operant Networks and their revolutionary solutions, please contact
About Operant
Operant Networks is the leading provider of machine-to-machine communications using a novel networking technology that provides intelligence and security on data packets. Founded in 2016, Operant has been developing their solutions with funding from the Department of Energy and U.S. Air Force. Operant, headquartered in Santa Rosa, California, has participated in a number of technology startup programs including Alchemist Accelerator, CleanTech Open, and Creative Destructive Labs.